HONOR THE EARTH IS UNVEILING AMAZING NEW MERCHANDISE AND ART !
OUR MANOOMIN AND PEOPLE ARE STILL PIPELINE FREE!
Our wild rice and people are still oil free, but we need your help to keep it that way. The treaties that all our ancestors signed are meant to protect our sacred foods and our traditional ways of life. We will defend everything we have, as our ancestors did. While we do this sacred work of protection, we must also create the future we want. We are not just fighting against something but walking with open eyes and hearts down the path that is green, not scorched.winWe have added exciting new designs and merchandise this summer coming into the fall and winter season. There will be more amazing gifts to purchase during the Holiday Season or for everyday gifting, as we transition our merchandise to hemp and eco products.
e are excited to announce our new Water Protector's coffee blend by Spotted Horse Coffees roasted here in Ponsford, MN featuring the fair trade beans of women coffee farmers and producers of El Salvador, Chiapas and Costa Rica. This painting is by Votan (NRSGNTS), an indigenous artist, and is a huge mural in downtown Duluth, MN. Our Water Protector is an Anishinaabe woman, who is looking over the greatest of the lakes--Gichi Gummi. She is facing with prayer and the power of the Natural world, the greed of the Wiindigo, the fossil fuel industry, mining and lumber barons. She is powerful.
Your purchase supports Honor the Earth's work
Join us in protecting our sacred rice and our traditional way of life. Visit our new merchandise page (www.honortheearthmerchandise.com) to order the new harvest this year and other offerings which we will be adding this year so stay tuned.
Celebrate and honor our north country with a purchase of our wild rice or maple syrup.
We are still pipeline free, and we intend to keep it that way.
THE NEW ART AND STORY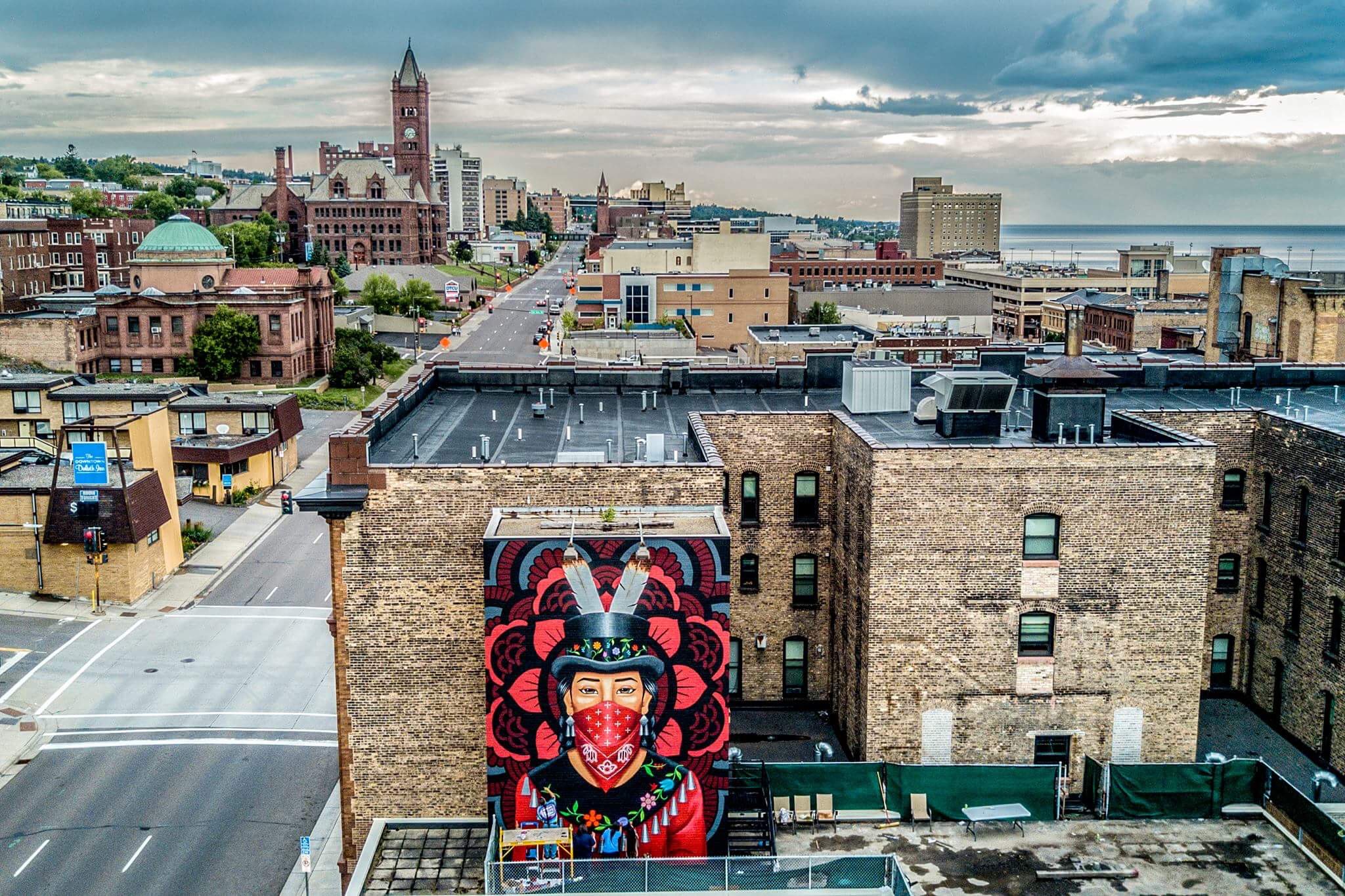 America suffers from historical amnesia. It is apparent that well into this millennium, the original inhabitants of this paradise still suffer the aftereffects of colonialism. People seeking freedom arrived on these shores over 500 years ago. It is unfortunate that in the pursuit of theirs, we were to lose ours. Corralled into areas deemed unfit for human survival, we overcame harsh conditions and thrived. The threat of our existence as a people has metastasized much like an autoimmune disease. Post colonialism has outgrown its life threatening behavior to the point that it's own life is under threat.
Invasion, slavery, relocation and many other forms of abuse weren't enough. We have now reached a point in our lives where we are all part of the sickness. We aren't just being abused, we abuse each other and we abuse our home. By annihilating ourselves, we are on a vicious course to do the same to the planet. Things have to change. The after effects are affecting us all. They are deeply engrained in our communities. We have mistaken abuse for progress.
One of the current issues, is oil. We are wise enough to see the effect of its intoxicating consumption. Beside it's pollution, the devastating effects it has in native communities is ostracized. This mural addresses this tiny fragment and puts it on a large platform. Women and children in our communities are being abducted, sold, raped and murdered for the pleasure of workers in this industry. If we address the problem, we can create solutions. Renewable energy, education and empowerment are vital. Let's change the beaten path of history. - Artist, Votan
In a time of crisis, as artists, it is our job to reveal the truths and envision the future by showing. That is our gift. With art we can recreate the past but also connect it to our present. More than ever, we must look to our ancestors for the answers. One of our biggest duties from creator was the task of care taking. As caretakers of the land, water, and sky, we must Stop The Tar Sands!

Here in this story, 4 warriors reemerge in a present day battle against the black snakes that emerge from the tar sands which is keeping our mother imprisoned as smoke billows from the mouth of the beast.

Against the Kinder Morgan Trans Mountain snake is Natsilane, a hero and a creator from the Pacific North West. He rises from the past to stand for the oceans he roams and the people he watches over.

Sky Woman dismantles the Energy East snake as she carries the next generation within her womb. She knows the risks as a mother standing against such a beast but also knows of the greater risks that await if the snake is not stopped.

Despite her sweat and tears, White Buffalo Calf Woman rises to face off with the re-emergence of the KXL but will do everything to protect her lands, water, and the Black Hills. Shes ready, for round two.

Waynaboozhoo canoes through the rice fields to confront the Enbridge Line 3 snake in deep prayer with the protection of the Thunderbid. He is kept strong with the fire he keeps strong with his warrior heart.

From all directions, we must stand and be the heroes our generation needs. We must take the teachings of strength, wisdom, and courage to rise up against the machines that are here to destroy every essence of life. Each pipeline is just a head of a larger monster. To defeat something so much bigger than ourselves, we must educate, organize, community build, and always know whats at risk. We may know what the past holds and it will forever be set in stone but not our futures. As an artist, one of our superpowers is to rewrite the future." - Jackie Fawn Illustrations
Water Protector Patches by Anthony Sul, California Native
Adding to website soon!
CHECK BACK!
WE WILL BE UNVEILING SOME AMAZING GIFTS JUST IN TIME FOR THE HOLIDAYS!