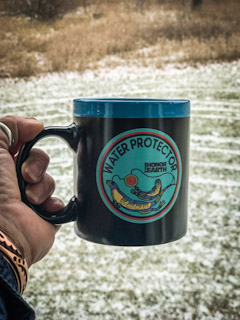 Spotted Horse Coffee
Limited Edition: Water Protector's Coffee Cups
Water Protectors. The prints developed from a series of contemporary issues facing Indigenous People. Oil is devastating traditional homelands and drinking water.
11 Oz. Hilo Black Matte and blue Two-Tone Coffee Mugs
Design by native artists INCLUDING Jackie Fawn, Anthony Sul and more. Features Honor The Earth's beaded 4x4 embroidered patches.
Only 10 available