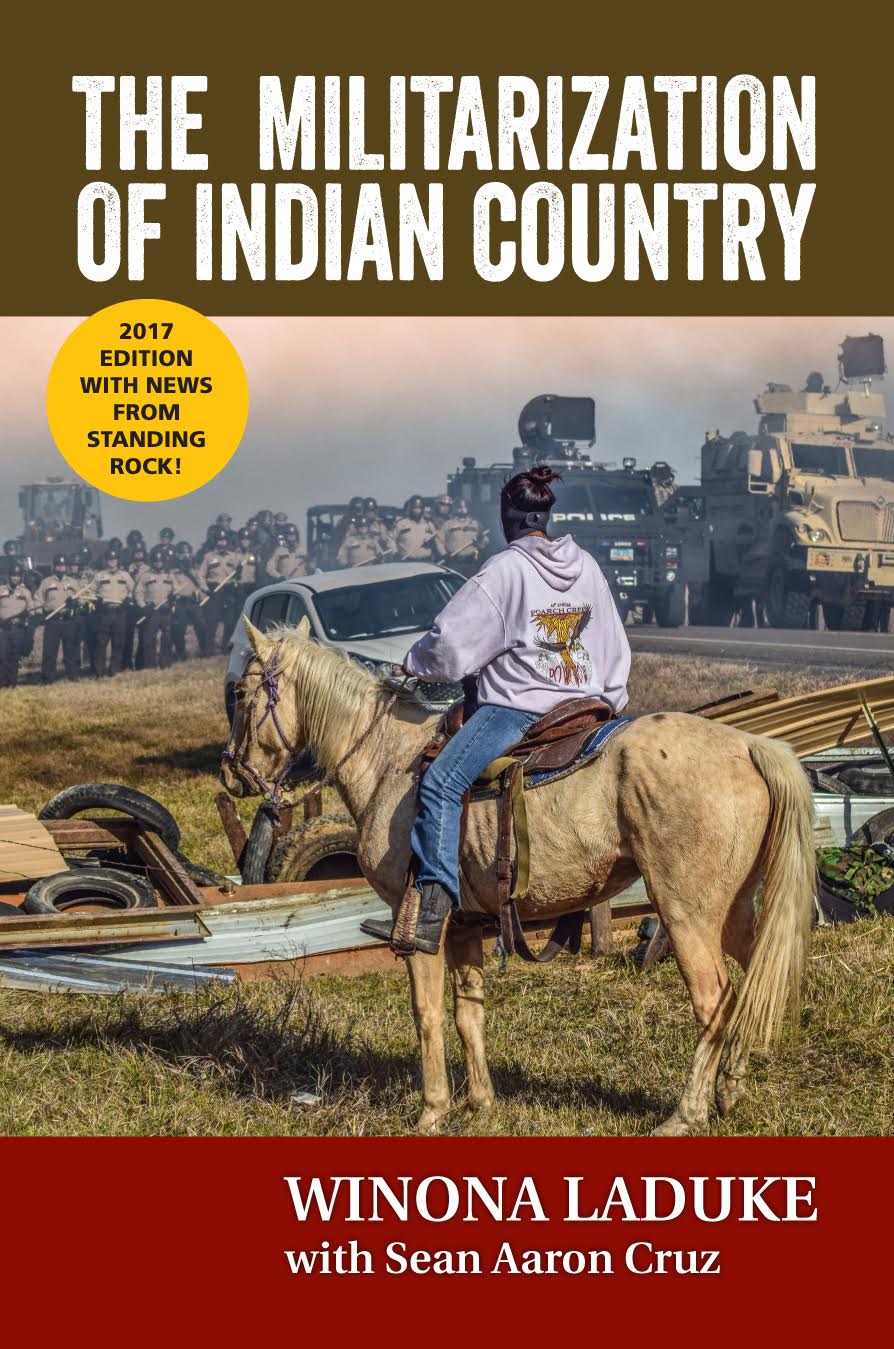 Artists
NEW! The Militarization of Indian Country (2017 Edition) - Paperback
Republished June 2017 ! The Militarization of Indian Country with News from Standing Rock!
It is 2016, and the weight of American corporate interests has come to the Missouri River, the Mother River. This time, instead of the Seventh Cavalry, or the Indian police dispatched to assassinate Sitting Bull, it is Enbridge Corporation and Dakota Access Pipeline, emboldened by a new militarization of Indian Country. At their beck and call have been 1300 highly militarized police, private security forces of the mercenary variety and the National Guard. It is a time not unknown to Native people, a time when the interests of corporations—whether the Hearst Empire, or a pipeline company—are able to deploy the military for their benefit. This book tells that larger story. This new preface speaks to the carrying out of the militarization of Indian Country in Lakota territory." – Winona LaDuke
Executive Director of Honor the Earth, author of five nonfiction books, a novel and a children's book, Winona LaDuke is one of the world's most tireless and charismatic leaders on issues related to climate change, indigenous and human rights, green and rural economies, grass-roots organizing and restoring local food systems over a career spanning nearly 40 years of activism.

Honor the Earth's mission is to create awareness and support for Native environmental issues and to develop needed financial and political resources for the survival of sustainable Native communities. Honor the Earth develops these resources by using music, the arts, the media and Indigenous wisdom to ask people to recognize our joint dependency on the Earth and to be a voice for those not heard.

Winona is the founder of the White Earth Land Recovery Project, whose mission is to facilitate the recovery of the original land base of the White Earth Indian Reservation while preserving and restoring traditional practices of sound land stewardship, language fluency, community development, and strengthening our spiritual and cultural heritage.
Re-Published June 2017
by Winona LaDuke (Author), Sean Aaron Cruz (Author)